PLANNING FOR YOUR NEW GARAGE
Do you need your old garage removed? Do you need a base laying for your new garage or your old base repaired?
Old Garages Removed
New Bases Laid
Old Bases Re-Instated
New Garages Supplied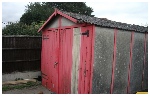 CHOOSING YOUR FINISHINGS AND FITTINGS
BRICK FRONTS
Choose from the range of colours opposite to perfectly match your garage to your home. Alternatively, supply your own bricks and we will create a unique matching look. Under certain circumstances it may be possible to supply a broader range.
GUTTERING AND FOAM FILLER
Guttering available in Brown, White and Black.
ROOF OPTIONS
All our buildings are supplied, as standard, with grey cement fibre roof sheets. These sheets are strong, robust and hard wearing, with an excellent resistance to condensation.
DOORS
Available in the following options. Doors can be hinged left or right and are opening out as standard. Timber personnel doors can be made to open inwards on request.
ROLLER DOORS
Roller doors can be fitted to all of our buildings in place of the up and over door.
WINDOWS
A 4' fixed timber window supplied as standard on single garages and two windows on a double. The timber windows can be made opening on request (not available in 2' wide). PVCu windows are available in 2' and 4' widths, can be opening or fixed
FASCIAS
The fascias on all buildings are available in Timber, PVCu (White, Golden Oak and Rosewood) and Plastic Coated Steel (choice of British Standard Colours). Choose from the options below to create your ideal garage.